Our Artists-In-Residence Program was created to help us fulfill our mission of sharing the beauty and history of the Garrett-Jacobs Mansion with the public. Reminiscent of Mary Frick Garrett Jacobs's musical soirees, we provide a beautifully restored venue for a limited number of small performing arts groups for the enjoyment of their audiences and to support their artistic endeavors.
The Unified Jazz Ensemble (UJE) is dedicated to bringing the best of jazz to audiences of all ages. Since 1992, the UJE has engaged listeners in innovative performances of jazz standards and original compositions.

Founded in 2010, the Atlantic Guitar Quartet (AGQ) is a contemporary music ensemble dedicated to promoting the music of living composers. Through virtuosic performances, innovative programing, and collaborations with other visual and performing artists, AGQ has broadened the repertoire for – and the definition of – the classical guitar quartet. Each of the four members, Mark Edwards, Kevin Shannon, Zoe Johnstone Stewart, and Jonathan Zwi, have enjoyed extensive solo performing and teaching careers since receiving advanced degrees from the Peabody Conservatory. As a group, AGQ has performed as part of the Evolution Contemporary Music series and the Spring Stage Performances series, and at Salisbury University, York College of Pennsylvania, Harford Community College, and the Jordan Faye Contemporary Art Gallery.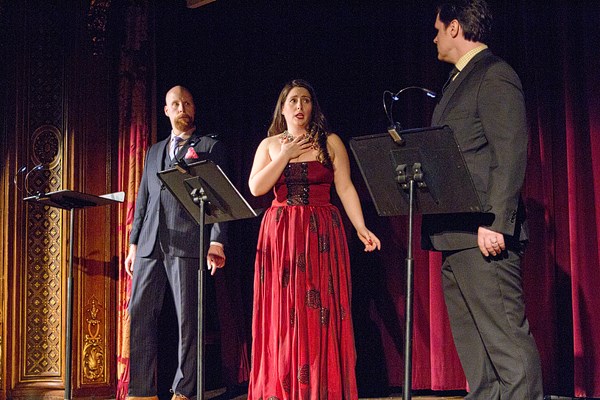 Opera Baltimore creates an experience that captures the core essence of opera: the connection between the audience and the human voice. Founded in 2009, Opera Baltimore is dedicated to presenting opera to the public in a format that is accessible, affordable, and vibrant. They are dedicated to presenting singers of the highest artistic caliber and strive always to have a sustainable impact on the Baltimore arts community and beyond.
Live Arts Maryland, the newest of our Artists-in-Residence, has a long and storied history. Centered by The Annapolis Chorale, which was founded in 1974 and led for over 35 years by J. Ernest Green, the organization has expanded to include the Annapolis Chamber Orchestra, Bach+ Consort, and Cantori performing at MD Hall for the Creative Arts, St. Anne's Episcopal Church, Live Arts Studio at Westfield Mall, and The Engineers Club. Their repertoire spans from Bach to Broadway in scale both large and intimate.